Monthly Archives:
March 2009
So yesterday I went to see the new Watchmen movie and I thought it was pretty amazing film. Though I thought it was pretty good, it wouldn't be my most favorite hero film. So I gave it some thought and here are my Top 10 most favorite superhero movies, as of March 8th, 2009…

10. The Incredibles (2004)


Ok what is up with Disney and Pixar doing a better fantastic four movie than the real fantastic four movie. DJ argues that this is too much of a family movie, but Pixar makes good movies with good scripts. It mixes in a lot of intriguing ideas of superheroes being retired and called back up to save the day. It also deals with betrayal, finding yourself, and family bonding and all that goody-feel good stuff. And you can actually watch this one with your little kids, so that must be good for something.
9. X-Men (2000)
 
And with this movie the modern age of superhero movies arrive. You watched the movie and wait to see if your favorite mutant will show up. Then fan favorite Wolverine joins the team. Mix in this story of using the mutant Rogue. And wrap it up with an epic battle between the X-Men and the Brotherhood of Mutants. This movie set a standard that all superhero films now follow and add and that's why it made the list.
8. Batman Begins (2005)
So Batman Begins brought up a brand new concept in comic book movies, the reboot. The old Batman movies from the 90′s, the first two were good and the rest just went downhill from there. Batman Begins ran Batman from his roots and showed the true side of Batman from the comics and not the silly Adam West kind. It had a really good storyline including a twist over one of Batman's best not known to much of enemy, Ra's al Ghul. With a darker undertone and giving a real basis over why Batman does what he does, it was a good all around package, and the most epic moment at the end of the film, leaving it wide open for its much sucessful sequel.
7. Spider-Man (2002)

The first Spider-Man will always have a special place in my heart. Spider-Man has always been my favorite comic book character and many others, a symbol of the normal everyday man now gifted with powers. Along with X-Men, Spider-Man ushered in the new millenium age of comic book movies and giving you something to look forward to every summer from here on out. Though I have seen this to death because of cable TV replayness. But seeing Pete put on the suit and soar through the air on line of web for the first time is just pure epicness.

6. X2: X-Men United (2003)

So yeah, people love everything there is about Wolverine, which is why he gets his own film coming in a few months. I don't think that's what the X-Men are about, but it still makes a good movie. In this one, Wolverine's past comes back to haunt him in the form of William Stryker. So Wolverine and apparently his X-Men go to stop his diabolical plan to destroy all mutants. Now my one pet peeve is when characters that don't exist at all in the comics are placed as deux ex machinas in movies, as in Jason Stryker. Though they did in this movie show just how friggin powerful Professor X really is. As in most trilogies, the second of the X-Men series was the best, while the third was other crap. Someone has to break this trend! Please!

5. Superman: The Movie (1978)
Ok so I haven't seen this movie in ages, and I'm completely trusting DJ on this, but yeah we say Superman: The Movie is #5 on our list. And I'll just say this, probably without this movie, there wouldn't be any other superhero movies out there. This defined the genre and it belongs on the lis, nuff said. Now someone just needs to make another good movie about the man of steel for the modern age and do it right (stupid Superman Returns).

4. Iron Man (2008)
 
Iron Man was the biggest surprise superhero movie of all time. No fanboy gave it much thought. The thing that probably made it work was the fact that everyone knew who Iron Man is, but didn't know much about him, so they could've wrote anything they wanted. Also the fact that Iron Man has been getting bad rap in the comic world ever since Civil War. All of this seemed like a very bad idea. Robert Downing Jr. made a really beliveable Tony Stark however and combined with very neat graphics it made Iron Man look amazing. It was a good movie and like all first films for heroes they have to spend that time introducing everything, meaning there was lacking actual Iron Man in the movie. Also the introduction of the Arc Reactor has made it ways into comics so that's always cool. How long this series survive will be a toughy since Iron Man doesn't have many interesting characters besides the Mandarin. But we'll see once Iron Man 2 comes out.

3. Spider-Man 2 (2004)


Now this was a throw up for us, which was better Spiderman or Spiderman 2? Since Spiderman is now played the hell out of on cable TV, I would say 2 was better. Since everything is defined by the first movie, they can work on just making an interesting storyline. Doc Ock was made to look for cool for the first time in like, well ever. This movie really defined the relationship of the characters with one another. What I didn't like is how Spiderman's secret identity was just shown to just about everyone, in which he was like what only about to keep it secret for a good 2 years? Wow, that's not that long. The ending left much potential, but Spiderman 3 killed all of that with trying to finish a story/please the fans/make things look interesting.

2. Watchmen (2009)
There is no other movie that kept to the original source material than the movie I just saw the other night, Watchmen. As having read it, I just felt nostalgia from seeing everything I read coming alive on the big screen, and Zack Snyder didn't miss much. There was a slight tweak of the ending, but it made it still work. Rorschach was just about everyone's favorite character in the movie, being just a total badass and the actor eeriely resembled the comic character. There is that feeling that Snyder adapted it a little too well and didn't add his own touch, and that what made it for me #2 and not #1 just cause I've seen it all before and there were little to no new surprises. But still, seeing them say the epic lines from the comics word for word on the big screen was worth it.

1. The Dark Knight (2008)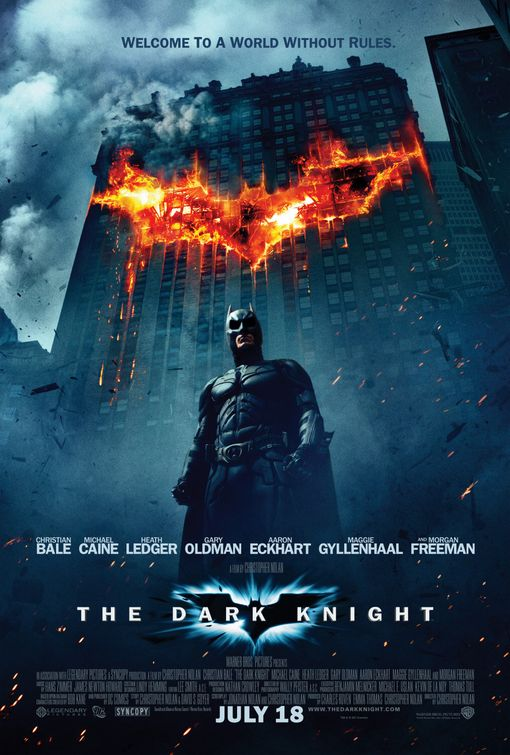 So it's been almost a year since it came out and I am still love the Dark Knight. So yeah you know already why I like this movie and you have your reasons why you like it too. And Heath Ledger's Joker has become almost synonymous with the character itself and the Oscar isn't too bad either. It catches you immediately with the first scene and pops twists and turns as the movie continues. It draws influences from many different stories including Batman: The Long Halloween and melds them into a genius storyline that pushes Batman to the limits. It also just builds on the dynamic that Batman and the Joker have together and you can't really go wrong with when you a write a story with them in it. When they go against each other, it will be epic (not even Superman vs. Lex Luthor or Spiderman vs. Green Goblin can top it). Know we just wait to see what the next in the Bat franchise brings.
Honorable Mention: Hellboy (2004), Superman II (1981), Batman (1989), The Incredible Hulk (2008)